NEW NEW NEW!!!  
Watch the Video about Our Serenity Listening System- International Heath Care Design Competition Finalist
After 3 years of development, we are proud to present the latest innovation by the committed team of developers at Aesthetic Audio Systems.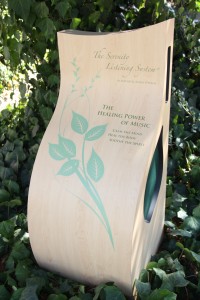 Now, a self contained system that can be installed ANYWHERE there is a single electrical outlet.
NO CUTTING SPEAKERS INTO CEILINGS.
NO RUNNING WIRES.
NO COSTLY INSTALLATIONS.
Just plug and play!
YOUR GUESTS ARE GOING TO LOVE YOU FOR THE SERENITY AS THEY RELAX, REFRESH AND RENEW.
PRESS HERE FOR ONE PAGE
FINALIST  in 2011International Design Competition    

at 7th world congress of the International Academy for Design & Health.
The Serenity Listening System ® is the  latest introduction by Aesthetic Audio Systems in their successful ambient audio programs.  Designed to create individual or group serenity zones in waiting rooms, organizations can now easily offer the serenity experience of designed  harmonic music for its patients, visitors and customers with this 'stand alone' system.
"After 3 years of research, Harmonic Healthcare™ is available
without costly installation and penetration into walls and ceilings."
Utilizing the most recent technology and their evidence based musical programming, the Serenity Listening System is a self contained system, housed in it's own beautifully constructed cabinet. It is easy to install,  moveable and requires no special infrastructure; no cutting speakers into ceilings, running wires or other costly installation expenses.  The system broadcasts it's music out of the cabinet and also broadcasts wirelessly to its secondary speaker which can be placed up to 50 feet away in the same or other wait space.
Your patients and customers can choose to have a musical relaxation experience, watch television or enjoy conversations with little or no hustle and bustle of activity.
"Patients and visitors who have experienced Harmonic Healthcare

 ™

 in waiting spaces have reported clearer thinking, less stress and a feeling of renewal."
For more detailed information please go to:
or call: 858 748 6060 
Since 2003, numerous Hospitals, Medical Centers, Medical Office Buildings and Clinics have been enhanced by Harmonic Healthcare® specially designed and customized music throughout their environment. This music has been proven to create patient, family and staff satisfaction.
Selected by the late Don Campbell (author of Mozart Effect, Music as Physician, etc), this music is broadcast through a proprietary Digital Music Manager which turns on and off automatically, changes music genre every twenty minutes and is updated monthly with additional music from our library of over 30,000 selections.
Selections are 'prescribed' by Campbell according to the desired human response. For example there might be music inserted as 'sonic caffeine' at parts of the day, music to relax, music to compress perceived wait time, etc.
Inexpensive
For about $7 a day, your facility can provide an experience which says 'we care' in a different, meaningful and unique way by demonstrating your consideration for those who are waiting for loved ones.
Ability to Positively Control the Visitors Experience
The Harmonic Healthcare music will waft in the environment at a low level so the listener will be impacted in a way that sends a caring, comforting message and well constructed positive emotional experience.
Diversity of Sound
Smart technology enables music programming to be randomized so no two songs will ever be played back to back and new music will be added to the program through monthly updates.
Positive Distraction
Music provides a positive distraction for those who have anxiety in hospital environments, benefiting patients and caregivers by creating a reprieve in an otherwise stressful environment.
Ease of Use
The only technical requirement for the equipment is a standard 110 volt outlet for the entire SLS. Plug it in and it will know the time and date, when to turn on, when to change genre and what genre to change to and when to turn off!
Minimal Investment
The entire cost of the SLS is only $4950 plus monthly music licensing fees* of $199 per month. That's it.
All Inclusive
Your SLS includes:
Custom Cabinet with personalized printing of your hospital's name
Dynamic range speakers
Wireless broadcasting system
Hand held remote volume controller with mute
Satellite speaker for secondary area or other wait space
36 months of monthly music updates
*$199/month per SLS for music licensing and all royalties to all artists broadcasted through ASCAP, BMI and others.*